Robbert Hagens
Robbert44
Amersfoort, Netherlands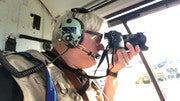 statistiques de compte
Fichiers envoyés:

33

Ventes totales :

1

Exposition du portfolio :

0.01%

Exposition dans la base de données:

0%

Téléchargements par image:

0.03

Messages sur le forum :

0

Fichiers envoyés par mois:

11.00 moyenne
BIO
Experience 2006 > Robbert Frank Hagens Art Photography 2006 > Art Directer of PMGToday - Media & Marketing | Amersfoort, The Netherlands 2006 > Founder of 1We - One World Experience Fondation | Amersfoort, The Netherlands 1896 - 2006 Director of Studio Hagens - Art in Media | Amersfoort, The Netherlands 1984 - 1986 Academy for Photography - Marter in Photography | Apeldoorn, The Netherlands 1981 - 1984 Academy for Fine Arts Artibus | Utrecht, The Netherlands Education Academy of Fine A ... plus
Experience
2006 > Robbert Frank Hagens Art Photography
2006 > Art Directer of PMGToday - Media & Marketing | Amersfoort, The Netherlands
2006 > Founder of 1We - One World Experience Fondation | Amersfoort, The Netherlands
1896 - 2006 Director of Studio Hagens - Art in Media | Amersfoort, The Netherlands
1984 - 1986 Academy for Photography - Marter in Photography | Apeldoorn, The Netherlands
1981 - 1984 Academy for Fine Arts Artibus | Utrecht, The Netherlands

Education
Academy of Fine Arts Artibus - Utrecht, The Netherlands
Academy of Photography - Master of Photography - Apeldoorn, The Netherlands


Exhibitions
February 2016 > - Tiller Gallery | Amsterdam & Florence Panorama
20/25 December 2015 - Museumsquere Amsterdam
Introduction of Amsterdam in Panorama
cache
Site web:
http://www.pmg.today
Inscrit(e) depuis:
November 4, 2017
Équipement:
Sony A7 RII Several aerial cameras
Sujets préférés :
The world looks spectacular from above. This perspective gives a powerful feeling, where everything is interconnected. With this fascination, artist Robbert Frank Hagens, makes panoramas by helicopter, offering a bird's eye perspective. With an original panorama camera from the 1980's, he captures world cities on razor sharp slide film with a particular round globe effect.