Jill Lang
Jilllang
Charlotte, United States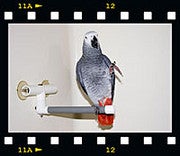 statistiques de compte
Fichiers envoyés:

1,592

Ventes totales :

5,225

Exposition du portfolio :

0.27%

Exposition dans la base de données:

0.03%

Téléchargements par image:

3.28

Messages sur le forum :

45

Fichiers envoyés par mois:

11.21 moyenne
BIO
See my growing collection of Charlotte, NC images. If you don't see it, email me.... I just might have it. Please visit my website for additonal information.

Trying to get around NC as much as possible. If you have a special request, please let me know.

Your support is appreciated!!
Site web:
http://jillwlang.smugmug.com
Suivez-moi:
Inscrit(e) depuis:
March 30, 2006
Équipement:
Canon 5D Mark II Canon 40D (EFS 17-85mm f/4-5.6 IS USM, EF 100mm f/2.8 Macro USM and a Zoom EF 70-300mm f/4-5.6 IS USM)
Sujets préférés :
My Charlotte Images
Oliver, my African Grey! He's 8 years old and he's turned out to be quite the talker. I have videos of him on my site... check out the video page. Hope you enjoy!
Stock rank: