Donald Ruzek
Pxlpilot
Oak Hill, United States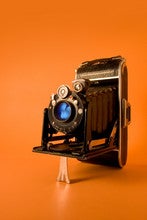 statistiques de compte
Fichiers envoyés:

3

Ventes totales :

98

Exposition du portfolio :

0%

Exposition dans la base de données:

0%

Téléchargements par image:

32.67

Messages sur le forum :

0

Fichiers envoyés par mois:

0.02 moyenne
BIO
I am a graphic designer and photographer, have been taking photos for over 20 years. Many of my photos have been used and licensed before, however I was focusing mostly on design. Lately I've gotten an DSLR camera and am focusing on photography. Being a designer as a profession, I understand very well what is needed in a photo a lot of the time, extra space around objects for text, the orientation of focal points, etc. I hope to work that knowledge into my photos and develop a unique look a ... plus
I am a graphic designer and photographer, have been taking photos for over 20 years. Many of my photos have been used and licensed before, however I was focusing mostly on design. Lately I've gotten an DSLR camera and am focusing on photography. Being a designer as a profession, I understand very well what is needed in a photo a lot of the time, extra space around objects for text, the orientation of focal points, etc. I hope to work that knowledge into my photos and develop a unique look and with my images.
cache
Site web:
http://www.pxlpilot.com/
Inscrit(e) depuis:
December 2, 2006
Équipement:
Canon EOS 450d, 400d digital bodys. Lenses: Canon EF 35mm f/2 and EF 50 mm f/1.4; Canon FD 80-300 zoom, Sigma 10-12mm wide angle zoom. Canonscan 8600f film scanner. Canon i850 photo printer for proofs. Photoshop CS3 Macintosh. Lacie 22" and EIZO 24" calibrated monitors. Numerous lights and reflectors.
Sujets préférés :
All types of objects for business concepts, travel/landscape. I am getting ready to bring in models for use with advertising materials in the finance vertical.
Stock rank: