Matthew Weinel
Weinelm
Sherborne, United Kingdom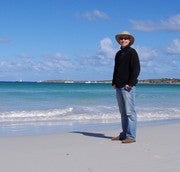 statistiques de compte
Fichiers envoyés:

429

Ventes totales :

2,675

Exposition du portfolio :

0.07%

Exposition dans la base de données:

0.01%

Téléchargements par image:

6.24

Messages sur le forum :

11

Fichiers envoyés par mois:

3.70 moyenne
BIO
Lived in Adelaide, Australia last year. Now living in UK. Moving to Switzerland in October!

Here are some of my collections:
Switzerland
Panoramas
Australia
Wine & Wineries
Sport
Coastal Landscapes
Nature
Energy and the Environment
Singapore
Suivez-moi:
Inscrit(e) depuis:
May 23, 2008
Équipement:
Mostly shooting digital with: * Pentax K5ii * Pentax 18-250mm ED AL(IF) - A fantastic travel lens. * Ricoh GR for carry-anywhere street photography. When shooting film: * Pentax ME Super - Simplicity at it's best. * A load of old prime and zoom SMC-A, M & FA lenses.
Sujets préférés :
Australia! Travel photography, panoramic imaging, whatever I see when I'm out and about.
Stock rank:
Je suis un photographe travaillant exclusivement avec Dreamstime.com.